Industrial Laundry Equipment for Hospitals
Healthcare laundries clean and process a variety of laundry items, including bed pads, gowns, blankets, sheets, towels and personals. Critical to properly cleaning each item type is a highly programmable washer-extractor and drying tumbler. Once programs are set, the washers automatically combine the right mix of chemicals, mechanical action, rinses, extract speed, G-force, and water temperature for superior results. A Girbau Industrial drywork towel folder further boosts production by eliminating hand folding. Towels, gowns and blankets are quickly washed, dried and perfectly folded.
To learn more, view our market segment brochure.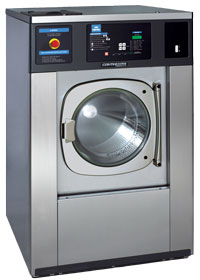 Soft-Mount Washer-Extractors
Girbau Industrial soft-mount washers are available in 130- and 255-pound capacity models. They feature high-speed extract up to 387 G-force, superior programmability, ease of use, efficiency and Soft-mount washers with high–speed extract bolster laundry productivity. They remove more water from every load and can cut dry time by up to 50 percent. Healthcare laundries complete more laundry loads per day, using less natural gas and water. Automatic chemical injection and one-touch operation ensure ease of use and a consistent and safe clean.
Compact 5-in-One
This space-saving all-in-one machine automatically feeds, irons, folds, stacks and accumulates a variety of flatwork items, including sheets, duvets, pillowcases, table linens and more.
Drying Tumblers
Girbau Industrial drying tumblers work in concert with washers to quickly dry healthcare laundry items without over-drying. Highly programmable, drying tumblers are available with the Linen Life Extension moisture sensing system, an anti-wrinkle feature, and optional fire suppression system.
Drywork Folders
Our single- and multi-sort towel folders allow healthcare laundries to quickly and perfectly fold towels for boosted production.