KTT45+ Card- & Coin-Operated Stack Dryer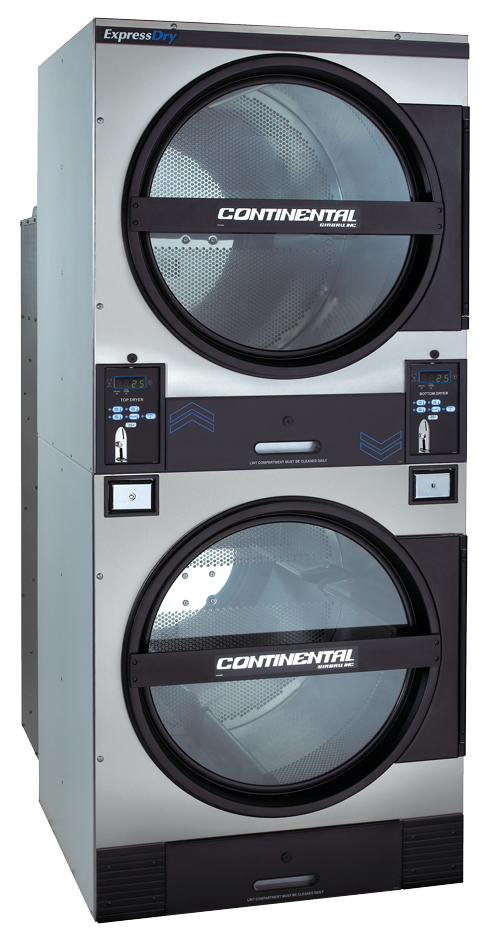 The Continental ExpressDry+ line of commercial dryers delivers quicker drying using fewer BTUs per load. ExpressDry+ packages the best in programmability, durability, efficiency and ease of use! Request a quote from your local distributor for our coin-operated laundry equipment. Available in 30-, 55- and 75-pound capacity single pocket dryers and 30- and 45-pound capacity dual-pocket stack dryers.
Dry Weight Capacity
45 pounds per pocket
Width
34.5 inches
Depth
49.5 inches
Height
81.3 inches
Machine Specifications
View Full Spec Sheet at:KTT45 Architectural/Mechanical
Capacity
45 lbs per pocket
Cylinder Diameter
33 inch
Cylinder Depth
30 inch
Cylinder Volume
14.8 cu ft
Net Weight
690 lbs
Crated Weight
915 lbs
Machine Width
34.5 inch
Machine Depth
49.5 inch
Machine Height
81.3 inch
Door Opening
26.9 inch
Floor to Door
49.3 inch (to top)
Shipping Dimensions (WxDxH)
35.5 x 54 x 85 inch
Motor Power
2 @ 1/2 Hp
Exhaust Diameter
10 inch
Exhaust Air Flow
600 cfm per pocket
Gas Connection
1/2 inch NPT
Make-up Air Supply
288 sq inch
Gas Heating
95,000 BTU/h per pocket
Available Voltages/Wire Conductor/Amp/Recommended Breaker Size
Gas
200-240/50-60/1, 2W+N+G, 12, 15
380-415/50-60/3, 3W+G, 6, 15
440-480/50-60/3, 3W+G, 6, 15
Product Manuals & Resources
We are sorry for the inconvenience. Please contact us at 800-256-1073 for manuals.