X20100 Commercial Ironer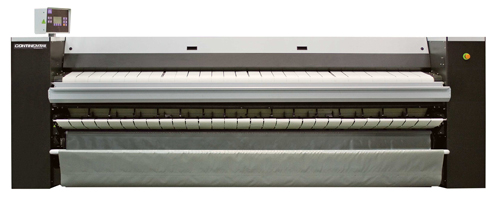 PRODUCTIVITY AND QUALITY AT ITS FINEST – Express Flatwork Ironers are designed to give laundries the ability to process linen at maximum productivity and to the highest possible quality standard. Express Ironers properly finish linens without the need for dryer conditioning and messy wax application and removal.
Cylinder Diameter
20 inches
Width
136.6 inches
Depth
46.2 inches
Height
64.2 inches
Machine Specifications
Coming soon!
View Full Spec Sheet at:X20125 Architectural/Mechanical
Cylinder Diameter
20.1 inch
Usable Cylinder Width
99.6 inch
Evaporation Capability
10.57 - 14.79 gal/h
Ironing Speed
4 - 49 ft/min
Net Weight
2788 - 3312 lbs
Crated Weight
3439 - 4017 lbs
Machine Width
136.6 inch
Machine Depth
46.2 inch
Machine Height
64.2 inch
Feed Height
40.6 inch
Shipping Dimensions w/o folder (WxDxH)
142.1 x 45.5 x 71.9 inch
Shipping Dimensions w/ folder (WxDxH)
142.1 x 50.6 x 71.9 inch
Motor Power
0.4 - 0.74 Hp
Exhaust Diameter
5.1 inch
Exhaust Air Flow
564 - 634 cfm
Product Manuals & Resources
Training – Startup Procedures
X13 Logi Control
Training – Startup Procedures
X20 Inteli Control
Commercial Laundry Equipment