Commercial Clothes Washer and Dryers for Correctional Facilities
Correctional Facilities have a myriad of concerns when it comes to doing laundry, including inmate safety, inventory and fabric longevity and productivity. Industrial washer and dryers need to be gentle on inventory such as blankets and sheets; programmable to handle a variety of items, including inmates' personals and rugged mop heads; and be equipped to handle hundreds of pounds of incoming laundry each day. Since inmates often operate the laundry equipment, it also needs to be easy to use and offer lock-out safety features.
E-Series brings correctional facilities exactly what's needed: High-speed industrial washer-extractors to boost laundry production; safety features and ease of use; and programmability to wash a variety of items—delicate or rugged.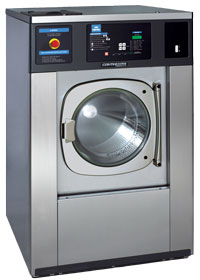 E-Series High-Efficiency Industrial Washer-Extractors
Soft-mount E-Series Washer-Extractors produce extract speeds of up to 387-G force – double the extract of most traditional, hard-mount industrial washers. Facilities can expect to cut dry time by as much as 65* percent, as a result. High-extract industrial washer-extractors significantly boost laundry productivity and cut gas consumption! Facilities do much more in considerably less time!
Automatic Chemical Injection
To ensure the right cleaning chemicals and softeners are used at the appropriate water temperature and cycle, E-Series offers automatic chemical injection capabilities on their industrial washers—an essential feature for proper removal of stains and other contaminants. Auto injection eliminates the need for adding chemicals manually and chemical overuse and waste—simplifying operation for inmates and keeping dangerous chemicals out of reach. It ensures items are properly cleaned every time! Typically, automatic chemical injection can result in a significant savings in detergent costs.
A Soft-Mount Design is Key
For some facilities with little space, E-Series' soft-mount industrial washer design means the washers can be installed nearly anywhere without concrete foundations or bolts. No matter what, the soft-mount design means installations are easier and less expensive.
Programmability
E-Series offers the Logi, Logi Pro & Inteli programmable controls. The programmability of these controls are key to increasing productivity in your on-premise laundry. The E-Series controls allow you to customize programs according to specific load type, therefore shortening the time required to process a load—boosting productivity. Fixed-timer washers don't allow this flexibility, therefore most often have longer cycle times and lower productivity. The industrial washers couldn't be simpler to operate—just push a button and go!
Laundry Equipment
Washer-Extractors
Drying Tumblers
Flatwork Ironers
Customer Testimonials
View Case Study: Sevier County's New Laundry Ups Production; Cuts Inventory Expense in Half – Inside Spin Vol. 3, No. 2
View Case Study: Multitasking Machines Make Laundry Easier for Correctional Facility – Inside Spin Vol. 6, No. 3
Resources
Contact your nearest distributor to request a quote!