Commercial Clothes Washer and Dryers for Bed & Breakfasts
By replacing top-load commercial clothes washers with Continental's Energy Star-rated E-Series Commercial Washer-Extractors, B & Bs consume less water and gas, complete laundry in less time and cut labor expense. It just makes good sense.
Energy Star-qualified E-Series Commercial Washer-Extractor
Saving water, electricity and gas has never been more critical to B & Bs, especially those in locations where resources are costly. The 20-pound capacity E-Series commercial washer extractor uses nearly 40 percent less water than some top-load commercial clothes washers—saving approximately 20 gallons of water per load. In turn, sewer and water heating costs are significantly reduced. B & Bs dependent on holding tanks or septic systems can cut wastewater considerably using E-Series commercial washers , and in doing so, save on wastewater removal fees and prevent septic over-loading.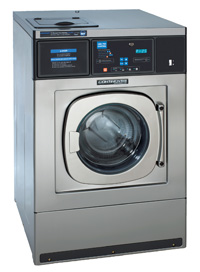 Freestanding Design
The E-Series commercial washer extractor offers a freestanding design that fits easily into spots previously occupied by water-guzzling topload commercial clothes washers. No bolts or concrete foundations are needed, allowing for quick, inexpensive and easy installation. When you run a 100-year-old B & B, installation flexibility is important!
300 G-force Extraction Cuts Utilities & Improves Productivity
Its soft-mount design and durable construction allows high-speed extraction of 300 G-force. As a result, the E-Series commercial washer extractor can ultimately cut dry time by up to 50 percent over some top-load washers. By removing more water from each load, you boost production and cut labor.
Automatic Chemical Injection
E-Series commercial washer extractor's automatic chemical injection simplifies and quickens the wash process. Through the consistency of automatic chemical injection, E-Series commercial clothes washer provides high-quality wash results every time, no matter who does the laundry. You'll also use considerably less detergent. Just load and go!
Highly Programmable Controls
The E-Series commercial washer extractor's programmable controls are key to delivering superior cleaning performance and enhanced laundry productivity. The user-friendly control can be customized to properly wash nearly anything — sheets, towels, mop heads, drapes and comforters!
Team E-Series Commercial Washers with an E-Series Commercial Dryer and Flatwork Industrial Ironer
B & Bs need quality commercial laundry equipment in order to turnout a five-star finish on tablecloths, napkins and linens. Continental high performance Flatwork Ironers allow linens to be fed directly from the washer to the ironer, which eliminates dryer conditioning altogether. This is an exclusive Continental feature! In doing so, items can be finished in considerably less time using less labor and utilities. When items require drying, Continental's E-Series Commercial Clothes Dryer fits the bill.
Laundry Equipment
Washer-Extractors
Drying Tumblers
Flatwork Ironers
Customer Testimonials
View Case Study: B & B's Update Laundries; Cut Water Usage in Half and Double Production - Inside Spin Vol. 4, No. 4
Resources
Contact your nearest distributor to request a quote!